FuelMe experience of the month: "Conveniently eating delivered food guilt-free every day"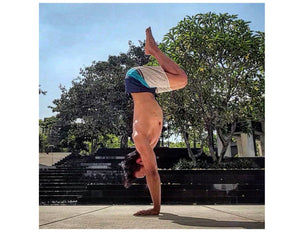 We had a chat with Aaron, who decided to spend his money on healthy prepared meals and save his time to help lighten the pressure and tension of home responsibilities of a growing family.

Hello Aaron, nice to meet you! You've been using FuelMe before and since the start of the new year. How did you first hear about us? 

A:. "Hi guys, the pleasure is mine! I think it was a combination of an Instagram ad and a paper flyer. Then I gave the service a try. Before FuelMe, I was eating out a lot every day. Like many others, I was often using Wolt, but it becomes quite expensive in the long run if you order every day and neither is it too healthy.

Me and my family have now been using FuelMe for over 3 months and I don't see us stopping using the service any time soon. We started out using a promo code and switched to the 8 meal subscription quickly afterwards." 
What do you value the most when it comes to the ready-to-eat meals?


A: "It is a balance of a few things: convenience, taste, and health. There are a lot of food delivery options out there but they are not always the healthiest choice. By choosing a meal delivery service on a weekly basis you want to make sure that you are not going to put on weight. At the same time, it should be quite fresh and taste good." 
Would FuelMe fill in the role as your lunch or dinner solution or both?

A: "I think dinner is more important for us. My work provides lunch and I do not like to carry my food with me to the office, as I already have a lot of things to carry. So for me FuelMe works more like a solution for the evening when I do not want to hurry to the supermarket to buy groceries, start cooking from scratch and do all the cleaning afterwards. I now simply take a FuelMe meal from the fridge, heat it up, eat a tasty dinner and then recycle the packaging.

That's another very nice thing about FuelMe; the sustainable and recyclable packaging. This actually really impressed me and I considered it a very nice touch to the service. It makes me feel that FuelMe is a little bit more of a premium service from that perspective because they do not use cheap packaging."
Correct, we use eco-friendly packaging! We work hard to reduce our environmental impact as much as possible. You jokingly mentioned once that FuelMe has "saved your marriage", can you elaborate?

A: "About four months ago, we got our first son. So from that moment onwards, my wife and I became even busier people. With a baby at home it meant we needed to adjust our schedules and obviously had a lot less time to do things. After my son's birth and before I discovered FuelMe, I used to run around to buy all the groceries, cook food, clean and after that put the baby to sleep. Quite a list of things to do on a daily basis after a workday, which meant that my wife and If we did have enough sleep. It was leading to quite a stressful time for everybody at home. I had to do my things, my wife had to do hers and in the end we got upset that we did not have time to do everything as we wanted. 
So I decided I would rather invest in healthy prepared meals and save time, taking out the unnecessary stresses of doing a million things at home and instead quality time with my wife and son So I started to use Wolt but it wasn't a long-term solution: it's rather expensive and the food wasn't always so healthy either. So I am very happy that I discovered FuelMe. The pricing is on point (it is definitely not too expensive for what you get delivered) which makes it ideal for eating it on a daily basis. The meals are healthy - so you do not feel guilty that you eating delivered food - it's convenient and fresh."

Quite a busy daily schedule. Do you have time for any sports at the moment?


A: "I currently do a combination of three things: yoga, calisthenics and variations on handstands."
Has your food budget changed a lot after switching to FuelMe?


A: "I don't think it has changed too much. Buying groceries in Finland is not cheap. Wolt is definitely far more expensive and ordering from there would translate to about €40 for a dinner at home. Using FuelMe is much cheaper in that sense because the meal price is roughly €10 per meal, meaning we pay about half of what we used to. If we then eat FuelMe 4 times a week that is €80 per week for two people, which is definitely reasonable.
Think about it this way: if I went to the supermarket to buy groceries and cook the main dish of the day it already costs me about  €15 euros. A cauliflower is already about €4 (quite expensive) and a piece of steak €7 to €9. Considering the cooking part is skipped and the size and taste of the meals, FuelMe an excellent and affordable solution. After using the service it makes you think twice about going to the supermarket and spending all your free time cooking, cleaning and washing dishes. Time is precious."
Tell us your favourite cheat meal between those healthy dinners.  

A: "I like dark chocolate - a lot. It is problematic having it laying around. Yesterday I told my wife she needs to put it out of sight and not have it laying around on the kitchen table."
Are there any future changes you would like to see from FuelMe?

A: "I think it is very important to have convenient pick-up locations, such as close to Rautatieasema or in Kamppi. Spots where a lot of people pass by on a daily basis. I don't think FuelMe needs to have many more pick-up locations but the future ones should be located strategically well in the centre. 
The weekly changing menu is nice, yet more vegan options are always welcome, definitely now that I am trying to switch to eating vegan while my wife is a pescetarian.

I am very grateful for the service and I really want to see FuelMe succeed. I like the value proposition and I think the company can still grow in many ways within Finland. I know that FuelMe started with a focus on the CrossFit segment but I think that focus is only the beginning. I believe FuelMe is a long-term solution to anybody who wants to eat healthy food and doesn't have time." 

What does FuelMe, in a nutshell, mean to you?
A:  "I would say: convenience, a long-term package solution and eating delivered food guilt-free. It saves me so much time and I now eat healthy tasty food every day."


Thank you so much, Aaron!