Nordic plant-powered snacks, 100% real ingredients. The story behind Puroa Goods.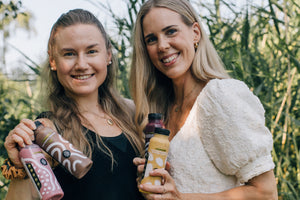 Not so long ago FuelMe started a collaboration with Puroa Goods - a healthy lifestyle & well-being brand founded by two experts from different fields: Emmi Viitanen and Tuulia Talvio. We sat down (virtually) with them to chat about their company story, so let's hear it!
Let's start with an introduction. Could you tell a little about yourselves?
E: Perhaps I could start. I would describe myself as a somewhat all-around gal. Before starting as an entrepreneur, I worked at a law firm for four years as an IP Technology lawyer, but I knew that brands had always been close to my heart and I had a long-time dream of creating my own consumer brand. The pandemic kind of pushed me towards those dreams. In addition, I'm an athletic person and work as a group fitness instructor and it has always been important for me to lead by example when it comes to well-being.
T: I studied work psychology and media studies at the University of Technology in Helsinki. Besides that, I've always been interested in food and feeling good, so during my studies I started to write a blog around these themes. It was around the time superfoods gained ground in Finland when I started to explore them, motivated by my own health related issues. Eventually, what started as a hobby became a job. I never planned to become an entrepreneur, but in the last 6–7 years I've developed my blog, worked and collaborated with different firms mostly in the food and health industry, written a book and worked in recipe development for various customers. About a year ago Emmi and I started to discuss whether we could come up with something new. We've known each other since we were teenagers and have many interests in common.
How did you eventually come up with Puroa Goods?

E: We both have expertise in different fields. The idea developed last fall in 2020 and we started the company in December. We noticed that there's a demand for a healthy lifestyle brand and at that time it was for good-tasting, wholesome snacks with good ingredients. We came up with smoothie recipes at first but since the beginning the goal of our brand has been to create and develop more than just smoothies, which is our only current product. Our products are developed for busy people, workers, athletic people, and in essence for everyone with a need for energizing and healthy snacks. 
T: Yep. Our aim was and is to create products stemming from our own needs and with a thought in mind – what would we want to have and use in our own lives? This also relates to why it's so good to work with FuelMe since we share the same ideas and values.
E: What we do is fueled by our own needs and the values that drive us, but turning those into real products has been a journey. The whole process has been so eye-opening – all the studying of different production methods, design production, etc.
How did FuelMe come along during that journey?

T: Pieter contacted us, and after some phone calls we quickly realised how like-minded we were and that our collaboration could really work. And it has been good! We shared the same ideas and thought that we could complete and reinforce each other.
E: Our products are currently available as add-ons for FuelMe's customers. Otherwise we have had our so-called pilot phase going on, we've been selling our products in different grocery stores in Helsinki for four months now and the acceptance has been really welcoming.
T: Now it's just time to think about the next steps!


Speaking of which, what's next?

E: Our goal for the end of the year is to scale our production processes so that we can grow and widen our distribution. One part of that is to begin to sell directly to offices and to create an online shop. We want more people to be able to enjoy easy, healthy and tasty snacks that are 100% real.
T: And as for smoothies, we have five core flavors at the moment, but we really want to expand and offer seasonal flavors as well. We're not just a "smoothie brand" and we are developing something that's tentatively called protein-snacks. Our goal is to create snacks that feature ingredients from Finland and other Nordic countries and value locality. We have so many amazing and healthy ingredients, especially berries that work wonderfully in snacks! So we make sure that all of our products have a Nordic twist in them.
E: The main theme is to provide only the so-called real stuff; foods that are what the label says and don't ever contain suspicious or weird ingredients.

What do good food and a healthy lifestyle mean to you?

T: For me, it's important to value pure and fresh ingredients and foods. I love to cook and do so with my family and friends, and it's always been a way for me to enjoy my time with people around me. And since I'm a recipe developer, it's a platform for creativity as well. I think food is a key way to take care of ourselves – for me, some of it stems from the history of finding ways to support my immune system and well-being, both mentally and physically.
E: I agree with Tuulia. I think food affects greatly on how we feel and how much energy we have to operate. It's also something we all to some degree can influence. The 80/20 way of thinking fits this well, and that's also the base on which we're building our business. Food has a very important role in well-being, but it also doesn't need to be all-or-nothing. We do have a will to show an example of how small, good things add up and create the bigger picture.
T: And that's also where our name – Puroa Goods – comes from. "Puro" might be a small stream, but together with many streams it creates bigger rivers – you can reach good things with smaller things. I think FuelMe has the same kind of approach. With small, good daily practices one has a chance to ease and improve their own life.
Thank you, Emmi and Tuulia, and best of luck for the upcoming steps!
You can find both Tuulia and Emmi as well as Puroa Goods from Instagram:
@tuuliatalvio
,
@emsuvi
&
@puroagoods
.